...Finally, here I am after the long series of misadventures in Madrid (if you're friends of mine on Facebook you already know I was robbed). An here it is the report from Yves Saint Laurent exhibition (on stage 'til january 2012, the 8th) organized by Mapfre Foundation and Pierre Bergé Foundation.
I begin my report with a tip: go and visit! It's worth. The collection is well-provided: 150 cloths, many videos, a setting that reproduces the designer's creative space, with his desk, his glasses and his inspirations, plus an entire floor dedicated to his sketches and tecnical specifications. To let you surrend, the entrance is free. Maybe, unlike me, you're better doing more attention to your wallet when you're in the subway. :)
...Ed eccomi qui, finalmente, dopo le mie disavventure a Madrid (se siete miei amici su Facebook avrete appreso che sono stata derubata), a farvi un piccolo report sulla mostra di Yves Saint Laurent organizzata dalla Fondazione Mapfre in collaborazione con la Fondazione Pierre Bergé, che sarà visitabile ancora fino all'8 gennaio 2012.
Inizio col dirvi che ne vale davvero la pena, per cui se state programmando un weekend nella capitale spagnola, vi consiglio di segnare nel vostro itinerario la tappa "Paseo de Recoletos, 25" perchè la collezione è veramente ben fornita: 150 capi, diversi video, un allestimento che riproduce lo spazio creativo dello stilista con la sua scrivania, i suoi occhiali e le sue ispirazioni e un intero piano dedicato esclusivamente a schizzi e schede tecniche. Per farvi definitivamente capitolare, aggiungo che l'entrata è gratuita. Magari, a differenza di me, fate più attenzione al vostro portafogli in metropolitana. :)
The exhibition has been organized in 11 spaces spread over three floors: one, as said, is dedicated exclusively to sketches, drawings, shapes for headdresses, fitting laps assemblated on dummy and thousands of textiles pieces pinned on cards... a real plunge into the "behind the scenes" of any collection which will excite who are passionate or professionist of a fashion job.
La mostra è stata organizzata in 11 spazi suddivisi su tre piani: uno, come vi ho già detto, è stato dedicato esclusivamente a schizzi, disegni, modelli per copricapi, telette di prova montate su manichino e migliaia di pezzetti di tessuto appuntati sulle schede... un vero tuffo nel "dietro le quinte" di ogni collezione che non mancherà di emozionare chi è del mestiere e le appassionate del mondo della moda.
The ground floor traces the designer's creative path through his most representative garments; they also are an anthology of his fashion innovations: the trapeze dress, the safari jacket, the tuxedo for women, the pantsuit, the leather jacket for women.
Being in front of these such important and extraordinary sartorial garments of fashion's history is an incredible emotion. I was watching the outfits (expecially the 70's ones) and I thought they were extremely cool and updated, wearable and fashionable. This is a visionaries' prerogative. Only the great can be timeless.
Il piano terra - quello che accoglie i visitatori al loro ingresso - ripercorre il percorso creativo dello stilista attraverso i suoi capi più rappresentativi nelle varie epoche, che costituiscono anche un'antologia delle sue innovazioni nell'ambito della moda: l'abito a trapezio, la giacca sahariana, il completo smoking da donna, il tailleur pantalone, il giubbotto di pelle.
Trovarsi davanti, a pochissimi cm dai propri occhi, questi capi sartoriali di fattura straordinaria che sono stati così importanti nell'ambito della storia della moda è un'emozione grandissima. Guardavo gli outfit - soprattutto quelli del periodo che va dal '68 alla fine degli anni '70 - e pensavo che erano estremamente cool anche oggi, indossabilissimi e attuali come non mai. Solo i visionari possono farlo. Solo chi è veramente grande diventa intramontabile.


The top floor is a collection where there's a strong inspiration to the art world (the designer collected with his partner pierre Bergé many artworks during his life) and other countries' ethnical heritage: very impressive jackets totally hand-embroidered with sequins that reproduce the famous Van Gogh's sunflowers, great gowns carved with patterns from Matisse's paintings, the mytical trapeze dresses inspired to Picasso and Mondrian and - even more amazing - the collections inspired to folkloristic costumes from Russia, China, Spain, Morocco, India, Africa...
L'ultimo piano raccoglie una serie di capi in cui è evidente l'ispirazione di questo stilista al mondo dell'arte (insieme al suo compagno Pierre Bergé collezionava opere d'arte) e il suo attingere al patrimonio etnico di altri Paesi: impressionanti le giacche interamente ricamate di paillettes che riproducono i campi di girasoli di Van Gogh, eccezionali i lunghi abiti intagliati a motivi ripresi dalle opere di Matisse, mitici gli abitini geometrici in punto roma ispirati a Picasso e Mondrian, e - ancora più stupefacente - la serie di capi ispirata agli abiti tradizionali di Russia, Cina, Spagna, Marocco, India, Africa...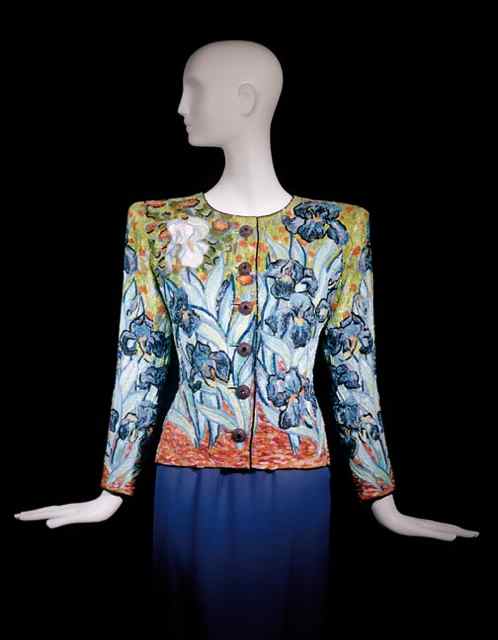 Just the last one was the continent which excited me the most. For every outfit, its own amazing headdress. Corsages created with a weaving of beads hand-strung, elegant gowns decorated with plastrons, sequins, beads reproducing decorative patterns typical of african tribes...
A triumph of craftmanship, a solemn celebration of human manual skills which left me speachless.
What struck me, above all else, was the incredible crativity of this man who has produced such a wide an heterogeneus repertory. A designer who has always renovated his work, who never stopped, who has innovated, changed, experimented, even arousing disagreement, but remaining always faithful to his genius whereby he could see beyond and do what no one else would have thought of doing.
Only the great can do it.
Proprio quest'ultimo continente è quello che mi ha affascinato di più. Ad ogni outfit, il suo copricapo - stupefacente anche quello. Corpetti creati con un intreccio di perline infilate a mano, lunghi abiti decorati a plastron, paillettes, canottiglie, perline, a riprodurre i motivi decorativi delle tribu' africane... Un trionfo dell'artigianalità, una solenne celebrazione della manualità dell'uomo che mi ha lasciata a bocca aperta.
Ciò che mi ha colpita, sopra a ogni altra cosa, è stata la creatività incredibile di quest'uomo nel produrre un così vasto ed eterogeneo repertorio. Uno stilista che si è sempre rinnovato, non si è mai fermato, ha sperimentato, cambiato, innovato, anche destando dissenso, ma rimanendo sempre fedele al suo genio che lo portava a vedere oltre, a fare quello che a nessun altro sarebbe venuto in mente di fare.
Solo i grandi sanno farlo.
images sources: it.ykone.com; blog.privalia.com; lagarconneme.blogspot.com; www.fondation-pb-ysl.net; www.daringtodo.com; www.modalizer.com; www.nytimes.com; bonjourcolorado.com; modernlook.tumblr.com